Election Day – a democratic activity for the whole family to enjoy (if they're over 18). But with life's simplest activities tends to arise some very irrational and occasionally rational thoughts. If you've ever voted or are about to, these feelings won't be unknown to you:
Am I in the right place, do I need my polling card?
Rocking up to your local town hall and you may think for a moment – am I supposed to be here? Was I invited? Your polling card is basically your invite to the worst party ever and will inform you of your polling station. And you don't even need to bring the invite but you can if you enjoy looking democratic-al as you walk towards your designated station.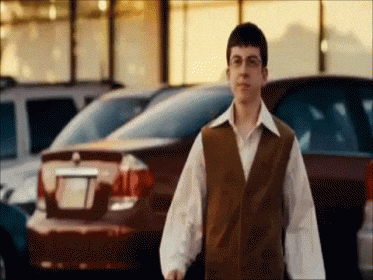 The stare-down
You walk in, into the weirdly silent room, and think "so, who are these bitches voting for?" Friends, family, neighbours – you see them all and can't help but wonder what's going on inside that little boxed-off area.
And then secretly playing 'guess the vote'
Like an American High School movie you analyse the cliques, Conservatives to right of me, Labour on the left, like a shitty remix of Stuck In The Middle With You. And of course the others scattered here there and everywhere (Lib Dems, Green Party, Monster Raving Loony Party and what have you…)
Do I tick it?

Just like an exam you forget everything you know all at once. The simplest of tasks' as putting a CROSS through the box is now questioned ten times over. Tick? Cross? Smiley face? My own blood?
Did I cross the right box?
You'll walk away thinking, oh. shit. Did I somehow mistakenly cross the absolute opposite box to the one that I actually intended? It's like the paranoia that you didn't lock the door but instead of your house at risk, it's the whole bloody country.
A strong sense of fulfillment
Crossing that box comes with an overwhelming feeling of pride and possibly nerves of making the right choice. But above all you feel as if you have done some successful adulting, today you completed a democratic duty, you go Glen Co-Co.
Whatever you chose, make sure it's what's important to you and be the democratic diva you know you truly are.

If you're still unsure, do some reading; try your best to actually read the official manifestos which can be found by a simple internet search on the political party's page.
AND READ THEM ALL!
Times change, policies change and priorities change – be open minded
Here are a few useful links but of course do your own research: